The John Smith Rock Frozen is being organized at Paviljonki, Jyväskylä, address Lutakonaukio 12, in the vicinity of Jyväskylä's city centre. The distance from the venue to the Jyväskylä Central Bus and Train Station is around 100 metres, and the distance to the city centre is around 300 metres. The entrance to the event area is from Uno Savola street.
The venue is wonderfully located in the vicinity of a transportation juncture, about 100 metres from the Jyväskylä Travel Centre, where one may arrive easily by either bus or train. WE RECOMMEND THE USE OF PUBLIC TRANSPORTATION! 
For more information on train and bus timetables:
Taxi
There is a taxi station right next to the venue, in front of the Solo Sokos Hotel Paviljonki.
If you are arriving at the venue using your own vehicle, we recommend parking your vehicle in one of the public parking garages located in the city area. The closest garages are located quite near Paviljonki. More Information may be found HERE. 
Several other garages may be found in the Jyväskylä city centre, as well as the Jyväskylä Travel Station.
The entrance to the event area may be found at the entrance on Uno Savola street.
The entry into the event grounds is divided by lanes which are clearly marked by instructions; there are lanes  for those who have ticket but not yet wristband, those who have changed their ticket to wristband in advance, those wishing to purchase ticket at the door, and for guests.
In order to ensure a smooth entry into the event grounds, we recommend to buy your ticket in advance and changing your ticket to wristband before the event. More info about ticket exchanging HERE.
The exit is located at the same place, and may be used either at the end of the event, or during it. It is permitted to freely leave the inside areas during the event! However be ready to submit to the safety check upon re-entry.
This event is restricted to those of 18 years of age or older. Please be ready to show proof of age upon arrival.
Get tickets to the gloomiest christmas party of the winter!
2.-3.12.2022 - Jyväskylä, Paviljonki
Age limit 18. Official ticket sales channels:Lippupiste.
A limited number of all ticket types are available. All ticket purchases are final.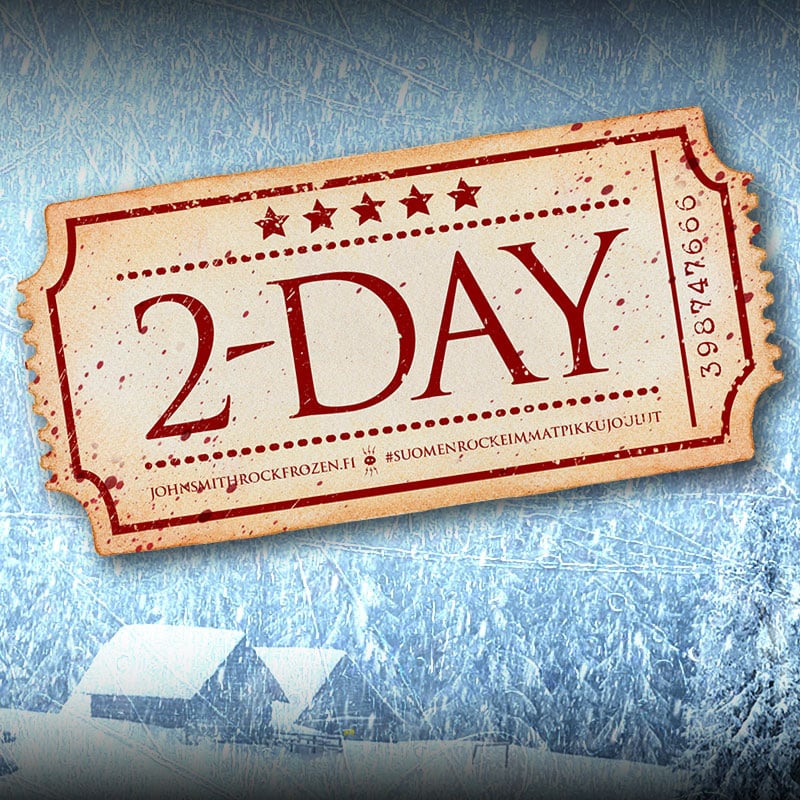 Frozen 2-day ticket 99,50 €