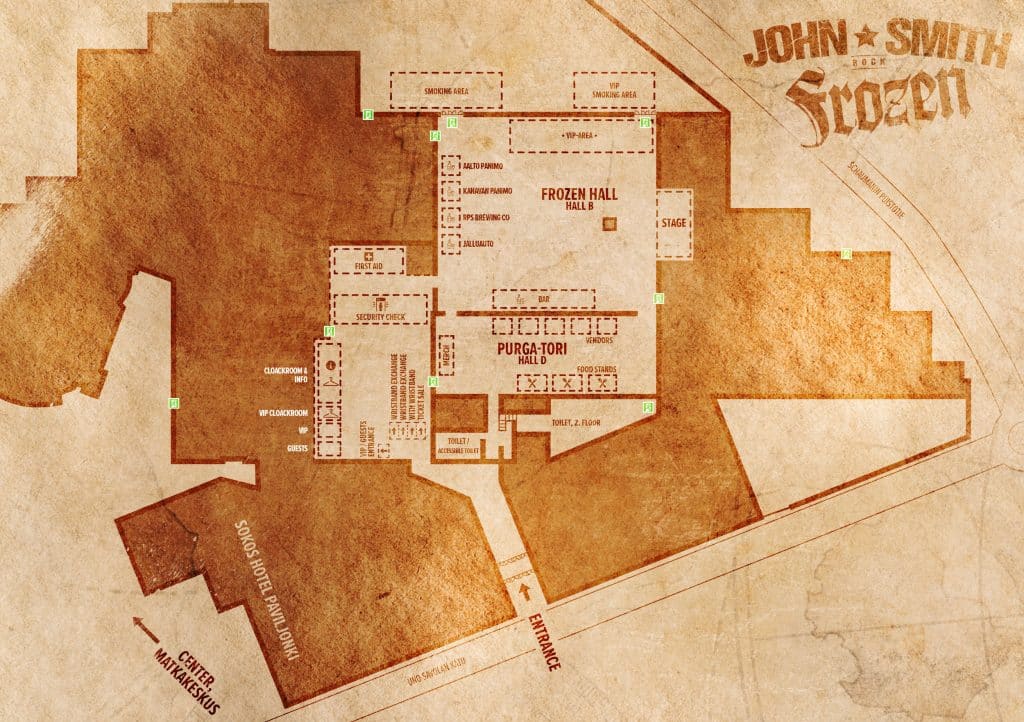 In the C-Hall, which is found immediately after the entrance, you will find the cloakroom, where you may leave unnecessary belongings for the duration of the festival.
The price for the cloakroom is 3 €, for every claim. If for whatever reason you need to take something out of the cloakroom mid-festival, you may return and claim it for a price of 3 € per claim.
First Aid
During the festival, first aid may be found at the festival grounds, at a clearly marked and easily locatable first aid station, next to security check. First aid personnel will be on duty for the entire duration of the festival. 
Security check:
Upon arrival at the event grounds, please be aware that you must submit to a standard security check, which is carried out to ensure that festival goers do not bring anything that does not belong at the festival. Within is done to ensure that every festival guest has a completely safe experience during the event.
To do this, our security personnel will make a security check of your person and your belongings. They also reserve the right to confiscate objects, which are on the "forbidden" list. Check instructions HERE.
This is the place where the magic and mayhem happens! A full house and nothing but fun, just pure love and happiness!
This is the focus point of the entire event: the Frozen stage, amazing bands, numerous bars, the VIP area, as well as thousands of festival goers, naughty or nice, celebrating a once in a lifetime Christmas party!
Almost 8000 square metres of rock'n'roll paradise… enough room for every guest! The guests have been taken care of by bringing benches and tables to the hall, i.e. eight hours of standing is not in the program, if you do not want to do so…
Great variety of drinks available: hand craft beers by Aalto Panimo, Wine & Drinks -bar, Jaloviina-truck and loads of bars, with beers, drinks and all kinds of happy stuff…
You can enjoy your drinks in the whole area, with the exception of the toilets, smoking area and the C-hall with a cloakroom and security check.
On the other wall of the hall you will find a VIP area, which is naturally equipped with benches and a tables + good view of the stage. There's also a smoking area for the VIP-guests.  You can find more information about the VIP HERE.
For guests using wheelchairs we have constructed an accessible viewing area with a clear view of the stage. Note, the accessible viewing area is not elevated. More information about accessbility HERE.
A place to freeze your "hot as hell" feelings! If you want to take a short breather from the magic and mayhem, go to the Frozen Lounge, where you can rest in peace and have a chat over a few pints with your friends, or whatever… 
The Frozen Lounge is filled with benches and tables, so never mind the problems with sore back or legs.
To spend time between the bands, the Frozen Lounge has to offer you a small stage with acoustic performances:
On Friday:
DUO KAIKKONEN & LIEKKALA (Red Eleven)
On Saturday:
SAMY ELBANNA (Lost Society) – Acoustic Solo
The Lounge also has an autograph tent, where you can meet your heroes and get at least a little memory from John Smith Rock Frozen ´21, even if there were "a few lost moments on your memory lane"…
Time schedule for autograph sessions is as follows:
On Friday:
TURMION KÄTILÖT               
On Saturday:                                      
BLOODRED HOURGLASS    
ROTTING CHRIST                   
Are you hungry, or maybe looking for some new clothes? All your Rock Frozen merchandise can be found at the Purga-tori market, situated in the D-Hall. Here you can find food, drinks, merchandise, as well as many other exciting products. You can also order food and savour the marketplace feel of the Purga-tori!
The list of Purga-tori vendors is as follows:
Black is the old and the new black!
If you´re looking for something to wear, come visit our merch point at the Purga-tori area! Our shelves are stocked with band merchandise, as well brand-new John Smith Rock Frozen products! 
If you are hungry, we have a solution for you! Take a few steps towards Purga-tori´s Food Heaven!
The place where you can get your belly and mind satisfied with gorgeous meal choices… Vegan and flesh!!!
There's a wide selection of dishes when Burger Beast Food Truck and Johnny´s HotDogs & Nachos bring their best to the Purga-tori!
Burger Beast Food Truck

(Also availabe with a gluten-free bun)
Cheese Burger
Vege Burger
BBQ-Bacon Burger
Chili Burger
Johnny´s HotDogs & Nachos
(Both Hot Dogs available as vegan version & with a gluten-free bun) 
American Hot Dog
Classic Hot Dog
Muchos Nachos
Nachos Supreme
French Fries
Coffee & Tea